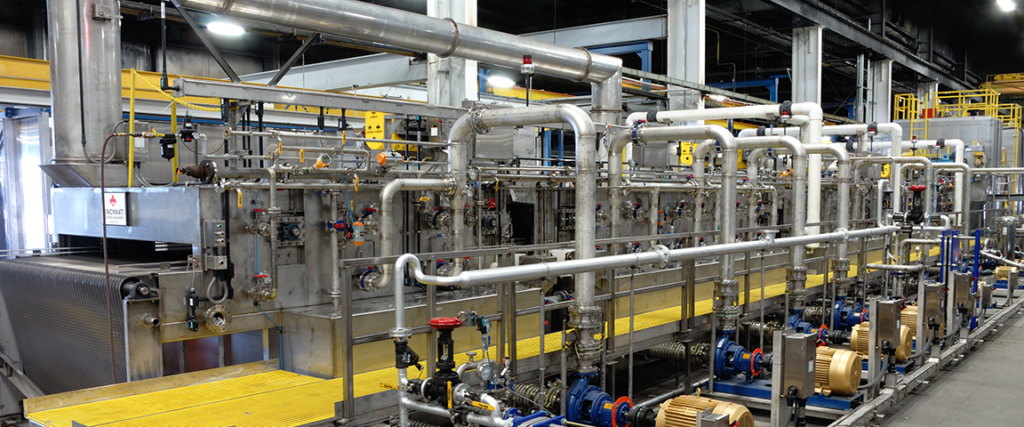 Can Washers
Since 1965, Cincinnati Industrial Machinery (CIM) is the leader in the beverage and food can washing business. As a pioneer in the two-piece aluminum and steel can processing technology, CIM has more than 450 processing machines installed worldwide.
Cincinnati Industrial Machinery (CIM) is the pioneer in two-piece aluminum and steel can processing technology. CIM has six decades of experience designing and building equipment for cleaning, drying, and curing food and beverage containers. We made the industry's first two-piece can washer in the 1960s and since then have cleaned trillions of aluminum and steel cans.
CIM has installed more than 450 can processing machines worldwide. As the world's most experienced manufacturer of can washers, wash coaters, industrial ovens, and industrial dryers, we can provide your company with the options you need to match the custom conditions of any can line. Our experienced engineers and industrial designers are responsible for the major advancements in can washing and drying found in today's industrial machinery throughout the industry.
By combining internal and external can curing technologies, we provide you with a competitive advantage that cannot be found anywhere else.
• Washers range in capability from small batches to over 8,000 cans per minute
• Can washer/dryer designed to accommodate all can height/can
diameter combinations
• Energy efficient design including premium efficiency motors,
thermal insulation, VFD motor control, low operating
temperatures, optimized pump, and fan selections
• Water-saving features such as belt moisture eliminators, oil
coalescers, and enhanced rinse stages
• All stainless-steel construction available for lasting durability
• OEM parts, service, and outstanding warranty
• 24/7 continuous equipment operation
• Experience working with worldwide Fortune 100 customers
The CIM Advantage
Leading the can washing industry since 1965, a pioneer in two-piece aluminum and steel can processing technology
Industry-proven long term reliability with hundreds of machines still in operation with high uptime performance after more than 40 years of production
No subcontract manufacturing. All two-piece can washers including washcoaters, IBOs, and pin ovens are built by CIM personnel
Largest customer base with over 450 processing machines installed worldwide
Operations in both USA and China
A comprehensive quality control run-off test is conducted at our plant prior to shipment:

– All can washers and ovens completely assembled to an operating condition under one roof

– Fully heated, run-off with all pumps, blowers, burners, and motors tested and operated (minus chemistry)

– Shortens time to production with onsite reassembly and commissioning completed in less than two weeks
As the pioneer and leader in can washing, we can support new can lines to increase your plant's productivity to address today's growth demand.